Vitamins are known to be powerful moisturizers that leave your skin feeling supple, vibrant, and soft. Vitamin E is among them, and it's an antioxidant that has continued to gain popularity in helping with skin issues. Most people link it to its moisturizing advantages, such as controlling skin dryness. But what is vitamin E? And what can it do to your skin? Read on through the article to learn more.
What is vitamin E?
Vitamin E is a fat-soluble vitamin exhibiting anti-inflammatory properties. It is an antioxidant that supports skin health and prevents cell damage caused by environmental pollutants. Vitamin E is naturally found in our skin and other natural products like avocados, nuts, and leafy green vegetables.
The skin absorbs vitamin E more effectively when applied topically. As a result, it's mostly found in skin care products like creams and oil. Vitamin E is suitable for most people, but it's not recommended for individuals whose skin is highly sensitive, prone to acne, or have oily skin. It's already present in the sebum, therefore, a vitamin E product that is heavy oil-based may lead to acne breakout due to clogging of the pores.
Skin Benefits of Vitamin E
Due to its antioxidant effects, topical vitamin E continues to be a well-liked treatment for many skin conditions. It serves a variety of purposes in topical skincare products. Such benefits include the following-
1. It's a powerful natural antioxidant
Vitamin E is vital in protecting the skin from the harmful effects of free radicals. These free radicals result from environmental irritants like Ultraviolet rays, dust, or other pollutants. They can cause dark spots, hyperpigmentation, and premature aging when they build up. Vitamin E, therefore, helps fight these damaging free radicles, reducing their harmful effect.
2. Protects lipid barrier
Vitamin E can deeply penetrate your skin to protect the lipids and soothe the outer part of the skin. It can assist in repairing tiny holes made in the skin's outer layer that could allow moisture to escape, leaving the skin dry.
3. Keeps skin moisturized
Vitamin E enables the cells in your skin to retain moisture for long periods. According to research, topical vitamin E application can improve the skin's ability to hold water, thereby preventing dry skin. Vitamin E helps maintain the skin's natural moisture by preventing excessive water loss.
4. May help hyperpigmentation
Vitamin E protects your skin against blemishes by neutralizing free radicals and preventing the oxidation of sebum. Hyperpigmentation on your skin can be formed by excess melanin, which can be due to various factors such as hormones. Research, however, shows that topical vitamin E only has a slight effect on hyperpigmentation.
5. Reduces the appearance of wrinkles
As an antioxidant, vitamin E naturally helps fight all the environmental toxins that can harm your collagen. Free radicals have been observed to have the power to alter the formation of glycosaminoglycans and collagen in the skin. Vitamin E and other naturally occurring substances high in antioxidants are known for reducing the appearance of wrinkles. Continuous use of topical vitamin E may improve the skin's elasticity and help maintain its firmness.
6. Helps irritated skin
Vitamin E may help dry skin. When used topically, it has strong soothing effects and deeply penetrates the skin for long-lasting moisture. It might also encourage a stronger skin moisture barrier, essential for healthy, smooth skin.
Vitamin E-containing products, repair skin that has been exposed to inflammation from pollution and sun damage. Since it contains antioxidants, it will help the skin recover from sunburn and other types of irritants.
Types of Vitamin E
Vitamin E can be found naturally in eight different chemical forms.
Gamma-tocopherol

Delta-tocopherol

Alpha-tocotrienol

Beta-tocotrienol

Gamma-tocotrienol

Delta-tocotrienol

Alpha-tocopherol

Beta-tocopherol
While they all exhibit varying degrees of biological activity, only tocopherol is considered sufficient for human needs. Alpha-tocopherol is the most prevalent vitamin E derivative in body cells, whereas gamma-tocopherol is the most common tocopherol in nutrition.
Gamma-tocopherol helps protect the outer skin layer from oxidative stress by inhibiting the synthesis of UVB-induced lipid oxidative damage and inflammation.
Tocopherol is the only one out of these eight forms that is the same as the natural component. We only use natural, d-alpha-tocopherol in our CBD body lotion since studies show that natural vitamin E is at least twice as effective as synthetic vitamin E. Additionally, it functions as tocopheryl acetate in skin care products.
The synthetic form of vitamin E is usually used in skincare products, particularly in high-concentration formulations. This is because natural d-alpha-tocopherol is significantly more expensive than synthetic vitamin E. Also, natural vitamin E goes through a series of processing procedures to ensure it's free from contamination which does not apply to synthetic vitamin E.
What Are the Side Effects of Vitamin E?
Vitamin E can produce dermatitis-like reactions, erythema multiforme, and xanthomatous effects when administered in its pure form or applied topically. Additionally, it could block pores, causing problems for people prone to acne.
Skin Benefits of Vitamin E and CBD Combination
Vitamin E and CBD work well together since they are both hydrating, calming, and soothing to the skin. To boost the effects of vitamin E in our body lotion, we added vitamin c, as the antioxidant benefits increase when combined. With the power of Vitamin E & C + CBD, ARVOR's body lotion delivers soothing relief and deep hydration to your skin. A high concentration of full spectrum CBD calms your skin, while a combination of vitamins E and vitamin C fights skin damage.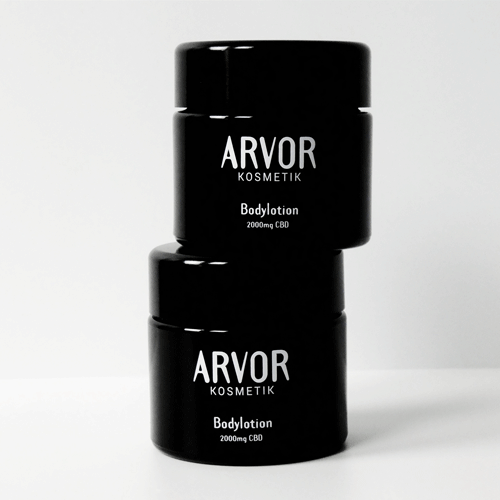 We perform lab tests for purity and safety to make sure our vitamin E is safe and derived from plants. Each bottle contains 2000 mg of full-spectrum CBD with added botanicals and superfruits like prickly pear seed oil, pomegranate seed oil, cloudberry seed oil, lingonberry seed oil, aloe vera, vanilla extract, and calendula.
ARVOR's CBD lotion is enclosed inside a recyclable glass container and is free from petroleum-derived ingredients. Additionally, we plant one tree for every jar sold to reduce our impact on the environment. COA results are also posted on our website to confirm potency and purity.
Contact us today to learn more about the benefits of our CBD topical.